Names of police officers responsible for hitting girl at rally published
According to the police, the girl shouted "Shame on policemen!"
Explanations of the policemen who detained Daria Sosnovskaya, who was beaten during a protest in Moscow on August 10, were published on the Internet.
Baza journalists have come into possession of the protocol on the delivery of Sosnovskaya to the department and the explanations of the police officers who carried out her detention. The commander of the department of 2 anti-riot regiment of Main MIA Directorate for Moscow, S. Glumnushin and the commander of the department of the 5th battalion of the 2nd anti-riot regiment, senior sergeant Pletnev O. G, told about the detention.
After Sosnovskaya was taken to the department, Pletnev and Glumnushin wrote explanations to the district Kolesnikov from the parsing group, in which they wrote down the reasons for her detention.
"At about 20:30 the duty officer gave information about the need for the arrival of police orders at the address: Moscow, st. Zabelina, house 2/4, p. 7, where a group of citizens of about 300 people <...> Upon arrival at about 21:00 I identified a citizen in the detention group, who was later identified as Sosnovskaya Daria Alekseevna, who as part of a group of citizens shouted "Shame on policemen!" <...> In connection with which Sosnovskaya D.A. <...> was delivered to the MIA Directorate in the Tagansky district of Moscow for further proceedings," said Glumnushin in his explanation.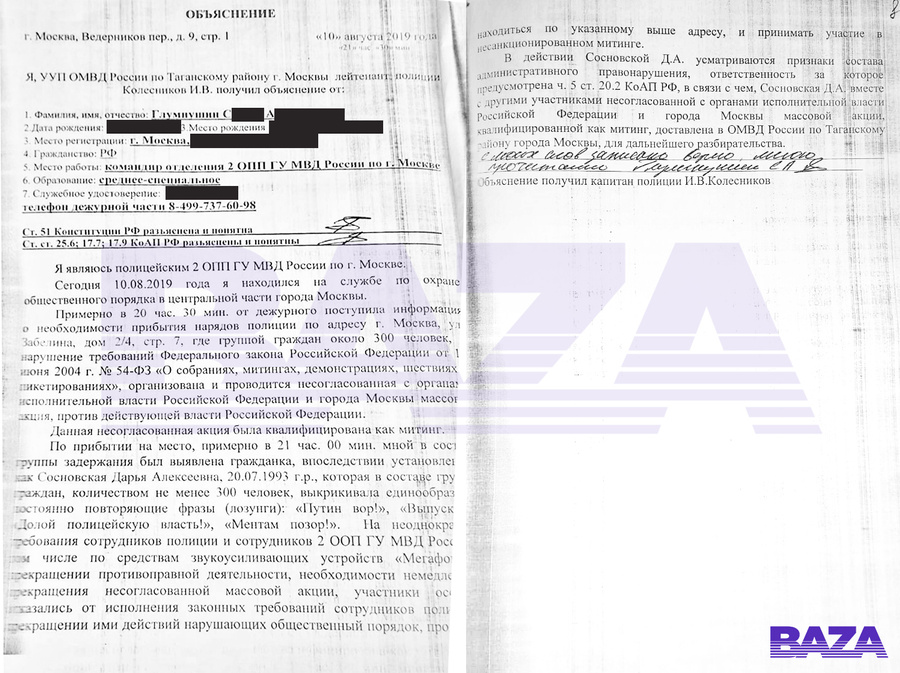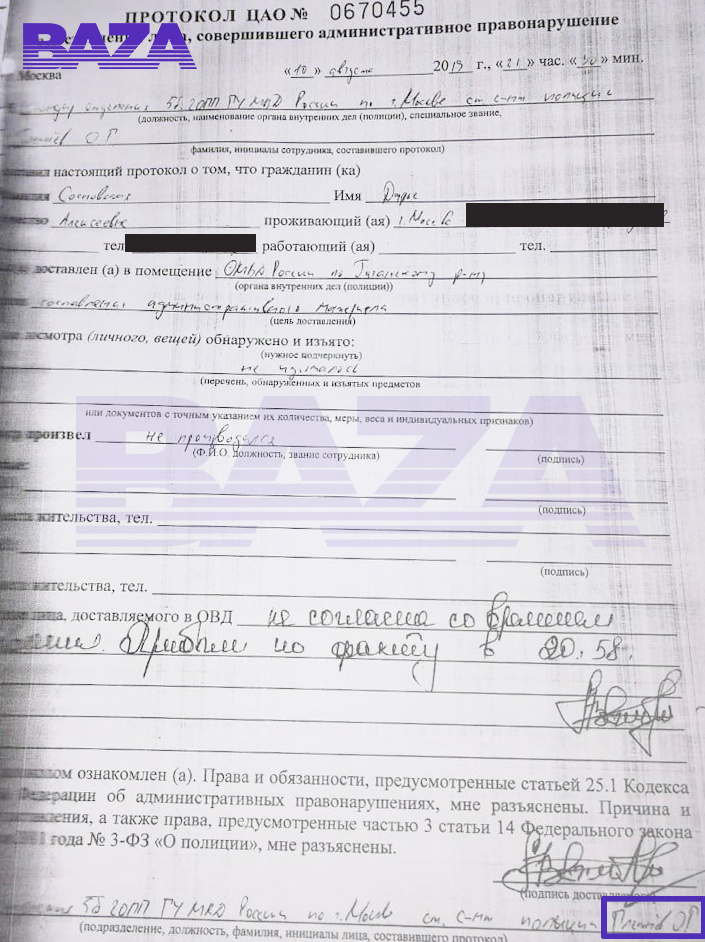 It is not necessarily Glumnushin and Pletnev who participated in the beating of Sosnovskaya, because often such documents are not issued on those employees who directly carried out the detention. Paperwork in each department can be transferred to several employees who write all the minutes. However, Glumnushin and Pletnev, if they did not participate in the detention, they should have taken Sosnovskaya from the fighters near the prison truck.
In frames published on the Internet, two security officers drag a girl by the arms, after one of them strikes her in the liver area. The incident received widespread publicity. A lot of media sources, public figures and show business stars urged the MIA to punish the policeman who hit the activist.
Officially, security officials have not yet published his data, assuring that an audit is being conducted. Baza reported that it was Sergey Tsyplakov, but the MIA denied this information.
Actual plots